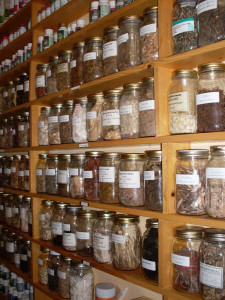 Our Integrative Medicine Clinic in Boulder, CO is the only in the country that has a direct relationship with a Certified Organic farm which grows medicinals used at our clinic. We work with the farmers up at Earthstar Farm in Boulder to maintain a herbal pharmacy of both bulk herbs and extracts which are certified organic and sustainably grown in our watershed.
Of the herbs we import from overseas, we use suppliers that independently test their herbs for pesticide and herbicide contamination and heavy metal residues. We are in the process of establishing satellite clinics with organic farming relationships in Mexico, Nepal and Belize where we will be able to help local communities and provide herbs which don't have a local analogue.
Our Clinic has pledged not to carry endangered plant species (see the link to United Plant Savers) and has a staff qualified to prescribe local alternatives to these species.